1. Books for sale, at shockingly good prices
2. Melville House staff selling those books
3. Novellas and Neversinks in a never-ending battle for the Best Looking Small Trim Paperback Supremacy
4. 0.8 miles of extension cord (per Google Maps)
5. Almost enough bubble wrap
6. Slavoj Zizek's non-union Brooklyn equivalent
7. Enough packing tape to restrain the books if they get agitated
8. One last bottle of Pappy Van Winkle 20 Yr Reserve
9. A tiny blue house that, when set upon your head, announces which borough you're to be Sorted into (and this is final so no whining.)
10. A machine that melts Amazon gift cards into ploughshares
11. An advance screener of "Melville House Author Photos: The Outtakes"
12. Locally sourced iPad batteries
13. Custom-made Dr. Scholl's insoles, the secret formula we can't reveal except to say it's carbon nanotubes
14. The machines we use to bring the Novel back from the dead
15. The definition of "scrivener" (not what you think)
16. Knausgaard repellent (hmm…)
17. Colophon gun (loaded)
18. A Bluetooth speaker blasting the entirety of Mastodon's Leviathan on shuffle/repeat
19. The answers, all of the answers
20. A song-and-dance number featuring every New York small press, complete with 72-piece orchestra, pyrotechnics, Espresso book machine solo, and audience splash zone
An Arthur Russell cover for your Wednesday morning. One of my favorite songs by one of my favorite artists who watches me work all day (not in a creepy way.) See?
I swear I just have the Kerouac picture because of the cat.
The only music for a morning such as this. 
(I have to nerd out a little - Miles improvised this entire score by just watching clips from the movie and then jamming along with just the barest framework of where he wanted it to go. That's the musical equivalent of someone going "build me a bridge without any blueprints, I'll tell you how much traffic we expect and you can go from there" and you going "yeah okay.")
Save the date! Spread the word! And kick off the Brooklyn Book Festival and Bookends week with Tumblr, recommendedreading, penamerican, and buzzfeedbooks!

We'll have Karl Ove Knausgård "My Struggle" Mad Libs with kickstarter at 8, dancing with DJ sammybananas at 9, and free drinks as long as they last.

Hope to see you there!
We can confirm that at least one of our illustrious staff will be heading to the party directly from work, as seen below: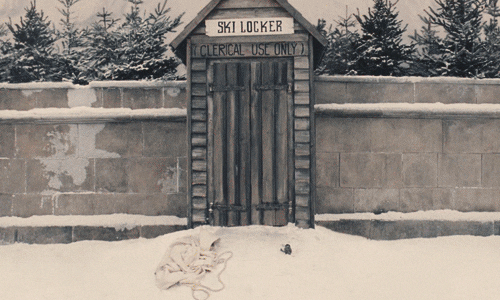 And yes, of course Melville House has its own ski locker.
And he'd dreamt of heading forth, one crisp, clear morning. Of setting off, before anyone had woken, as dawn broke. Of climbing up and up and up, following the course of the river to the foot of the glacier, and then climbing onto the ice. And then walking forth across the ice, up and only up, the sunlight dazzling his eyes.
He;d dreamt of the cairn left to commemorate his ascent. of the legends that would remain of his disappearance. And he'd dreamt of his own dead body, somewhere high and far and sun-touched. He'd dreamt of his frozen body, there above the clouds, there in the element of truth. There, where the winter sun blazed. There, where everything was frost-fire sharp and ice-clear.
And he'd dreamt of his frozen notebooks, full of truth, his brother said. He'd dreamt of his indecipherable writing, full of truth. He'd dreamt of the path he had trailed that none could follow. He'd dreamt that he had died of truth, of terrible truth. That truth had thrown its spear through him. That truth's tears had frozen on his cheeks.
Happy first-breath-of-Autumn Monday, everyone.